A New Era for Kryptonian
With the new Man of Steel film and its new depiction of Kryptonian just on the horizon, I have had some questions, some criticisms, and plenty of my own musings regarding this version of Kryptonian and the new one. I thought they would be worth sharing, and worth discussing.
A Little History of Kryptonian
Before 2000, the Kryptonian language was represented in comics by random squiggles in a speech bubble. This changed in 2000 when DC revealed a substitution font which they are still using in their comic books. This is NOT a language, just a different font to use when writing English (or French, or Spanish, or whatever the published language might be). So we have a set of symbols that have a one-to-one correspondence to the letters in our Roman alphabet.
Some mysterious attempt at creating a Kryptonian language begun by Superman author E. Nelson Bridwell predating the 2000 font, an attempt which has never really seen the light of day, gave us some ideas as to Kryptonian grammar. Things like a VSO word order, the noun+"o" plural marker, lexical gender distinctions, ideas about how the number system worked, and a few others.
Over the years, we have also gotten a very few Kryptonian words and names to give us a glimpse of what kinds of sounds might be in a Kryptonian language: words like drygur, bythgur, tanth, and flez and names like Kal-El, Jor-El, Zor-El, Lara, Dru-Zod, Nam-Ek, Faora and so on.
Superman 1 and 2 gave us the notion that the S shield was a family crest, and Smallville introduced the idea that the shield had the meaning of "Hope". Smallville also introduced the notion that Kryptonian writing has logographic components in addition to letters.
What we've seen in terms of spoken Kryptonian are limited to two instances: First, there is one brief moment in one scene of one episode of Smallville where Supergirl is supposedly mumbling Kryptonian in her sleep. It is almost completely unintelligible mumbling. Second, the animated film Superman/Batman Apocalypse features a significant amount of Kryptonian dialog between Superman and Supergirl. Sadly, this ended up being just Esperanto with a little gibberish thrown in.
The Kryptonian Language Project
What the authorities on the topic, DC Comics, the creators of this fictional world, have never given us, through all the various different portrayals and reboots of Krypton over Superman's 75-year history, is an actual Kryptonian language. So, since DC wasn't doing it, and since no one else seemed to be doing it, and since I'm a hopeless nerd who happened to be getting a degree in linguistics, I started making one myself.
But I couldn't just make anything. For me to say that my project is Kryptonian, I had to adhere as closely as possible to the "rules" that the creators already laid out. After all, I'm playing in someone else's world. Thus, the writing is based firmly on the official Kryptonian font used in the comics, but it is refined and expanded to support, not English, but a unique Kryptonian language. It aims to incorporate as many of the ideas previously presented as possible (the good, the bad, the ugly, and sometimes the conflicting). There are logographic components to the writing system a la Smallville. The phonetic structure is built to accommodate, reflect, and modestly expand on that which is revealed with the few known word samples that we do have. The grammar incorporates, fleshes-out, and expands upon the little tidbits that we've gotten glimpses of over the years.
Having to work with these limitations has been part of the fun of the project, but also part of the frustration; at times providing a wonderful journey of discovery and at times acting as a set of shackles.
Man of Steel

Now, Man of Steel is about to premiere and with it a new and glorious vision of Krypton replete with, it seems, a Kryptonian language. In doing so, DC, Warner Bros., and Zack Snyder have done something that I could never have done: they wiped the slate clean and started from scratch. Had I completely ignored all previous work, ignored all existing canon, created something new, and labeled it "Kryptonian" would it have indeed been Kryptonian? I think the answer is resoundingly no. I think that I can call my unofficial project "Kryptonian" only because it is so tightly linked to the pre-existing writing, words, and grammar that has been given or alluded to in official canon for years.
On the other hand, the Man of Steel Kryptonian language is Kryptonian because DC says it is. That's all it needs, and that's part of its strength. Please don't misread me on this, I am in no way trying to knock the language. I am merely making an observation regarding one of the fundamental differences between official works and unofficial works. The keepers of the realm, so to speak, have that unique and special freedom to recreate their world when, how, and to the extent they see fit. My only complaint with DC is that they have seemed to exercise this power (rather, allow authors/artists to exercise this power) a little too flippantly.
Personally, I LOVE love love the new writing system. It is absolutely drop-dead gorgeous in my opinion. I'm almost unable to stand the wait for the movie just to see if there is an actual spoken language behind this new writing system (all indicators point to yes, although I have my doubts as to whether we'll actually get to hear it in the film).
What Does the Future Hold?
Perhaps not surprisingly, I've been thinking a lot about what this new Kryptonian means for my project. Does it signal the end of an era? I think it does in some ways, and I don't think that's a bad thing. Can the two languages coexist in any meaningful way? That, perhaps, is the biggest question tottering around my brain. I think they can—the more the merrier, but there are a lot of factors that will play into how that answer unfolds over time.
As of now, DC continues to use their substitution font, which my language is so closely tied to, in the comic books. For that reason alone, I don't know that this project will fade into complete obscurity any time soon. DC also has a proven track record of letting film portrayals of Superman live in their own universe, so to speak, isolated from the rest of canon (Superman I-IV, Superman Returns, Lois and Clark, Smallville, various animated incarnations...). If history tells us anything, then this new Kryptonian will be limited to the Man of Steel film, its sequels and spinoffs, and its promotional materials. I hope that's not the case, but that would leave more room for this project to live and breath.
As I stated elsewhere before, in 2008 (in seeking to loosen the aforementioned shackles a bit) I began preliminary work on creating a direct, yet distant, ancestor language of modern Kryptonian (Ancient Vathlo, pictured below). The writing system I was developing, while simpler, is eerily similar (functionally) to the new Man of Steel writing—down to the point of them both being abugidas and not alphabets.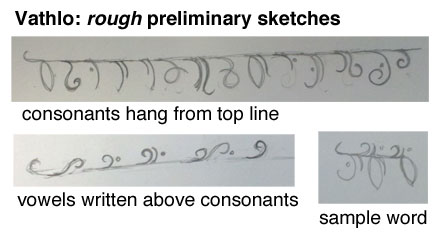 Now, before I get any trolling, yes, the new stuff is much much prettier than my rough ideas sketched down on paper. I am not trying to say that I did it first, nor that I could have done it better—there are clearly some significant differences between the two. I point it out only to show that they are similar enough to perhaps allow for an interesting possibility; it has been suggested that I continue work on this script/language and develop it as common ancestor to both languages, thus providing a bridge between the old and the new; a way of uniting and unifying the disparate canon that now exists.
The more I think about it, the more I like this idea—a way to make the culture and history of Krypton that much richer and provide an even smoother transition from the old to the new. Of course, to do that, I would have to have a detailed knowledge of the new language, and it may be some time, if ever, before DC releases any material on this new Kryptonian comprehensive enough for me to tackle such a project.
Ultimately, for some, I think it may come down to a simple matter of aesthetic preference. I much prefer these new glyphs over the ones from 13 years ago (on which my alphabet is based), but I have heard from some that they prefer the opposite.
I would love to hear any of your thoughts or discussion on the topic!
In the end, I think we're all just going to have to wait and see what unfolds!