Break Down of Kryptonian Writing in the Man of Steel
So yesterday, Warner Brothers / DC released this little promotional piece for the Man of Steel movie, a Kryptonian name generator.
http://glyphcreator.manofsteel.com/
At first blush, it seemed to me to be your typical schlack—I mean, how many of these types of things have we seen over the years? Answer a few questions, put in your first name, and get your "Kryptonian name". It seemed to be just another cranked out piece of marketing that used a cipher / font-substitution just like DC has done since 2000 with the symbols that my alphabet is based off of.
But... I noticed something different right off the bat. The pronunciation for the for your returned result is using IPA, turned 'r' and all! That is definitely *not* typical for this sort of thing, and, to me, points to at least some involvement by a linguist or at least someone who knows a little more about what they're doing.
Then, as I played around with it, I noticed something even more interesting. There is definitely more under the hood here than there seems to be on first blush. While most of the time you will get a 1-to-1 font substitution, it appears as though there are some names that it recognizes for a "more precise translation" (for lack of better description).
For example, if you put in 'Weslie' (not a spelling it should have), you get back a one-to-one character string: "w.ɛ.s.l.ɪ.ɛ" (which isn't even very pronounceable). If, however, you put in 'Wesley', the common spelling, you get back only 3 symbols: "wɛ.s.lɪ".
Initially, one can also see that consonants have a large "hook" above them. In the example above, the 'wɛ' is the same symbol as the 'w' but turned 180° and missing the hook. After more playing around, I can say that, long story short, this writing system is a bit clever (and very pretty).
How does it work?
NOTE: all of this information is what I could glean from the above website. This information is likely to be incomplete.
To start off, there is a base character for a vowel. This character is rotated, flipped, or combined with a left or right small "hook" above the letter to indicate which vowel is represented.
The consonants also have a base set of characters. A consonant by itself always has a large hook above it. Thankfully, this is definitely not a substitution font as there are no characters like "x" which can (and should) be portrayed with "ks" or the like.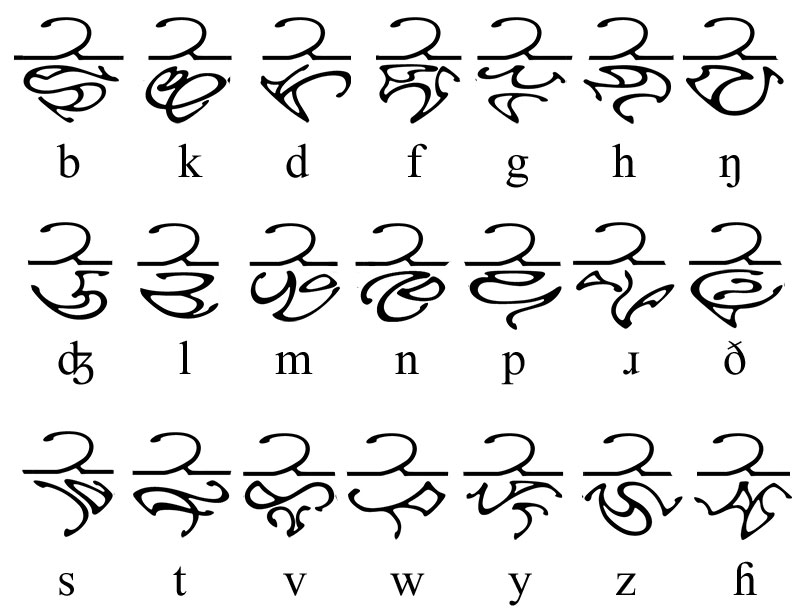 The consonant symbols can, it seems, be syllabic. While a large hook above always indicates a consonant sound only, take that away and you now have a consonant+vowel syllable. The orientation and the use of the smaller hooks indicate which vowel gets attached. It seems that just removing the consonant marker is not enough, though, as I couldn't get a syllable with the ɑ͡o vowel (diphthong). I marked this potentially invalid combination with a question mark in the example below.

I would like to make a special note that, oddly, this orthography is all extremely similar to work I started on in 2008 on a proto-Vath script (Vath being an island nation on early Krypton). However, I had nothing to do with its creation.
I'll be sure to blog on any other information as I find it. Enjoy!
UPDATE:
I was able to confirm that an unturned, unflipped consonant with no hooks above does indeed indicate the ɑo vowel/diphthong.
For those interested, this writing system is not an alphabet, it's an abugida.
Another interesting note from the Deep Space Radio Wave Project website (Man of Steel viral marketing) is the phrase translated as "You are not alone." From this we can see some examples of Kryptonian words, and what appears to be SOV word order. I look forward to seeing if there will be any spoken Kryptonian in the movie.
UPDATE 2:
I noticed that Steve over at Superman Homepage found another letter that I hadn't: [ŋ]. I've updated the consonant image with the new letter.
UPDATE 3:
Finally all the base symbols are accounted for! The last one (bottom right) is the IPA [x] which sounds like the ch in "Bach" or "loch".
UPDATE 4:
I slight correction: the new symbol is actually a voiced glottal fricative and not a voiceless velar fricative. A voiced "h" if you will.
UPDATE 5:
I have updated the site with info from various other forms of Kryptonian. For a complete chart of the Man of Steel Kryptonian writing (and any future information), visit the Man of Steel Kryptonian Writing page.